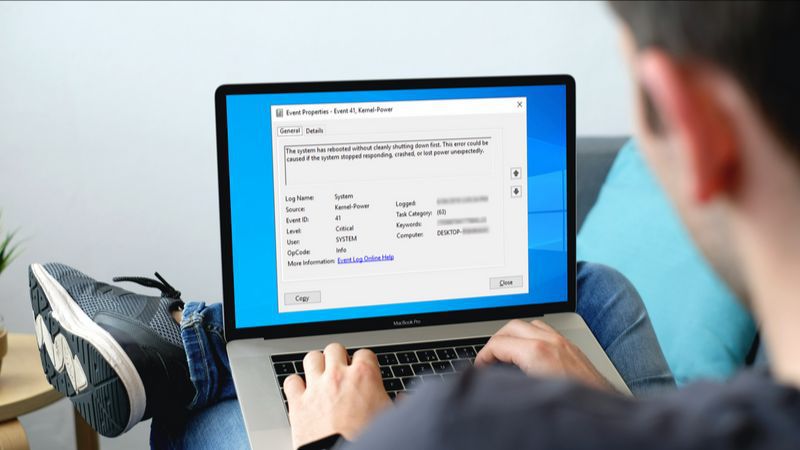 If you're looking for ways to fix kernel power error 41, you've landed at the right place.
In this guide, we'll discuss easy ways that can help you get rid of kernel power critical errors in Windows 10/11 or any version of Windows.
The Kernel Power error 41 in Windows is irritating as it can occur anytime, no matter whether you're playing games or working on a project.
It's a generic error that often appears as a result of either power-saving features on your computer or a lack of sufficient power supply in the unit.
In addition, it's also a result of hardware failure, memory errors, file/data corruption, outdated BOIS, and more.
No matter what causes the error, kernel-power 41 windows server 2012 r2, the thing that matters the most is the ways to fix Kernel Power Error 41 as quickly and efficiently as possible.
3 Ways to Fix Kernel Power Error 41
Kernel Power Error 41 can be one of the most annoying errors that Windows users encounter with their computers.
Fortunately, there are several ways that you can use to fix kernel power 41 windows 7/8/10/11.
Moreover, below we've discussed some of the most effective methods that you can use to resolve this error on your computer.
#1. Check Your
Power Supply
One of the most common causes of this error is having a weak or insufficient power supply to the computer.
Therefore, the first thing you should do is check the wattage of your computer's power supply.
Moreover, the wattage should be sufficient to match your computer's hardware requirements.
If the wattage is insufficient or there are any other issues with your power supply, you will need to replace it.
In contact, if the power supply to the Windows machine is ok, you can ignore this section and head to the following for other fixes.
#2. Manage Power Saving Settings
As we've already discussed, some of the power-saving features on your computer can trigger Kernel Power Error 41.
That said, another troubleshooting step you can take to fix kernel power error 41 is to manage the power settings on your computer.
For that, follow the below instructions properly:
Go to the search bar, type

Power & Sleep Settings

, and click on it.

In the Power and Sleep window, click on

Additional Power Settings

(below Related settings).

Again, click on

Change Plan Settings

[right side of the Balanced (recommended)].

There, find and click on

Change Advanced Power Settings

.

A new pop-up window will appear with the name of

Power Options

.

In that window,

find Hard Disk

, click on

Turn off Hard Disk After

, and set it to never.

Again,

find the sleep section

and set the

timer to 0

to turn it off.

Lastly, click

Apply

and then

Ok

.
Depending on the settings and hardware, you can adjust these settings to balance the power supply and reduce the chances of getting this error according to your need.
Pro Tip: It's recommended to turn off the power saving feature to permanently fix kernel power error 41 (only if that occurs due to it).
The system drivers are responsible for managing the functionality of hardware and software running on the computer.
So, it's essential to ensure the drivers are up to date, or else you may notice errors while using the Windows computer.
In other words, if your computer's drivers are outdated, it's possible that this could be causing Kernel Power Error 41.
Therefore, it needs to be fixed. This can be easily done by checking for any outdated drivers and updating them to the latest version.
For that, you must follow the below instructions properly:
Search

Device Manage

r on the search bar and click on it. Or, right-click on start and select device manager.

In the new window, you'll see a number of connected devices;

right-click on the one that needs an update

(look for! mark to the right) and select Update Driver.

A pop-up window will appear; select

Search Automatically for Drivers

.

After that, the system will

automatically detect and install the update

.
Note: After completion of the update, check if the problem still persists. If you find that again, simply Uninstall the Device instead of updating that.
For that, go back to the first window of

Device Manager > Right-click on Device > Select Uninstall Device

.

Lastly,

reboot

your computer, go to the manufacturer's website (the device you uninstalled), and

install a generic driver

.
Hence, these are the most effective ways that you can use to fix kernel power error 41.
Conclusion
Suppose you're doing some important work or playing your favourite game on your Windows computer, and suddenly it turns off. Won't it be frustrating?
In that condition, you must blame the 41 critical Microsoft-windows-kernel-power system server 2012, which causes this error.
But don't worry; there are several methods that you can use to resolve this issue, such as checking the power supply, adjusting power settings, and checking for outdated drivers.
We've discussed these steps in complete detail with step-by-step instructions to fix kernel power error 41.
Hope you find them informative and helpful! If you have any queries, feel free to ask in the comments below!